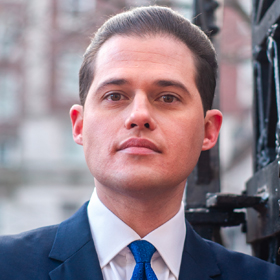 Christopher R. Riano
President
Christopher R. Riano is the president of the Center for Civic Education, the nation's largest constitutional law and civic education nonprofit dedicated to promoting an enlightened and responsible citizenry both in America and around the globe. Riano also serves as a lecturer in constitutional law and government at Columbia University, where he teaches comparative jurisprudence, constitutional theory, and the fundamentals of government.
He has served as a speaker and author at dozens of conferences and in a number of publications on numerous parts of constitutional theory. His book Marriage Equality: From Outlaws to In-Laws, co-authored with Professor William N. Eskridge, Jr. of Yale Law School, tells the definitive story of the marriage equality movement from 1967 to 2015, and is forthcoming from Yale University Press in August 2020.
Prior to the Center, Riano served as the assistant counsel to the governor of New York for education, arts, and constitutional law. He has also been the general counsel for the New York State Liquor Authority, an administrative law judge for New York State, and a partner at Drohan Lee LLP. He is the founder and CEO of The Riano Group, LLC.
Email: cce@civiced.org