Project Citizen: Curriculum In Focus
Join this virtual professional development series dedicated to enhancing your teaching prowess through the Project Citizen curriculum.
We'll help you unlock the full potential of this curriculum by showcasing the importance of student-driven learning. We'll dive deep into the Project Citizen Portfolio, demonstrating its practicality as an assessment strategy that truly reflects the skills and knowledge your students are acquiring.
Each session requires separate registration, but it's worth it. Registered teachers gain access to exclusive content and receive proof of contact hours for professional development. Don't miss this chance to revolutionize your teaching and inspire the next generation of informed and engaged citizens. Join us today!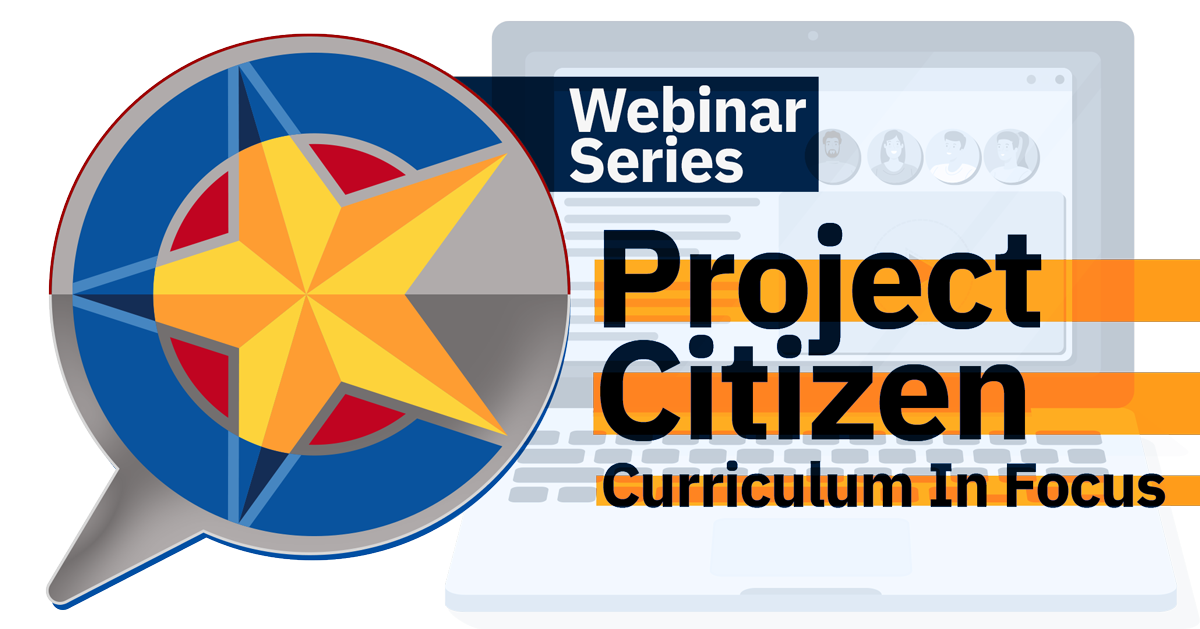 Don't miss this opportunity to explore the multifaceted aspects of Project Citizen, from its core objectives to its practical applications and how it can shape your educational approach. Discover how Project Citizen actively promotes student engagement in democratic processes, ultimately empowering them to take charge of their own educational journey.
In this session, you'll gain valuable insights and practical strategies for seamlessly integrating Project Citizen into your curriculum. We'll also explore ways to extend its impact beyond the classroom, reaching students in various settings. We'll explore the nuanced meaning of the term "citizen" within this program. You'll gain a comprehensive understanding of the Project Citizen portfolio and the simulated public hearing, the cornerstone authentic assessment tool within the curriculum.
Date Recorded: Tuesday, September 26, 2023
Presenters: Christine Hull and Denise Paxton
In this session, learn effective strategies for guiding students in identifying and selecting community issues for their Project Citizen projects. We'll demonstrate innovative methods to introduce public policy complexities, address student disagreements, and handle controversial topics.
Additionally, we'll explore tailoring community engagement levels to match individual student projects, emphasizing achievable goals. Discover how to empower students to make informed decisions based on solid evidence, setting them on the path to driving meaningful change in their communities. Gain valuable insights and real-world examples from expert mentors to inspire and nurture your students' passion for civic action.
Date recorded: Tuesday, October 10, 2023
Presenters: Barbara Ector, Sally Martinez, and Kathleen Dickinson
Get ready to equip your students with the knowledge and skills needed to become effective advocates for policy change. In this session, we will dive deep into understanding the role of government in addressing community issues and how students can actively influence these decision-making processes.
We'll start by unraveling the complex web of government offices and their responsibilities, providing you with a clear roadmap to navigate the bureaucratic landscape. As educators, we'll explore our crucial role in building relationships with stakeholders and community leaders, ensuring that civics becomes a shared effort between teachers and external influencers.
Your passion for civic engagement will be infectious, and we'll discuss effective ways to communicate what your class is accomplishing to parents, school administrators, and the community. While some states restrict students from engaging directly with government officials, we'll explore the impactful avenues available for student involvement with school leaders and other ways of addressing public issues within the public sphere.
Date Recorded: Tuesday, October 24, 2023
This session will explore creating action plans that bridge your students' passion for change with practical, achievable steps. During our time together, we'll guide you on how to assist your students in crafting clear and well-structured action plans that seamlessly align with the objectives of Project Citizen. We've made it easy for you with worksheets provided in the text to facilitate this process. We'll also emphasize the importance of collaboration and teamwork in the action-planning phase. Encouraging students to work together effectively and harness their diverse skills and perspectives can significantly enhance the quality and impact of their projects.
As we explore action planning, we'll also demonstrate how to integrate student reflection into the process. This crucial step enables students to evaluate and adjust their strategies, fostering continuous improvement continuously. Additionally, we'll showcase models of strong action plans at different levels of stakeholder engagement, providing practical examples for inspiration. Join us in empowering your students to transform their ideas into concrete, positive change within their communities.
Date Recorded: Tuesday, November 14, 2023
A well-organized portfolio is not just a documentation of students' efforts; it's a testament to their commitment to making a difference in their communities. We'll dive deep into strategies for structuring these portfolios to effectively communicate the depth and impact of their research and action plans.
For those opting for digital/electronic portfolios, we'll explore various platforms and tools to help students create engaging, multimedia-rich showcases. From interactive websites to multimedia presentations, we'll provide insights into leveraging technology to make their portfolios visually compelling and informative.
If you're interested in physical portfolios, we'll discuss creative approaches to design and organization. Physical portfolios can be powerful artifacts that leave a lasting impression, and we'll share tips on how to make them stand out.
The Center has offered high-quality educator professional development for decades. Today, we provide such opportunities through our partners in several states in addition to organized Center events, self-paced online courses, and special webinars.