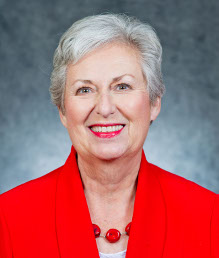 Pauline Weaver, Chair
Pauline Weaver has dedicated her professional career to the law and to legal and civic education. She currently serves as the secretary of the American Bar Association. Previously, she led the Law Offices of Pauline A. Weaver. Prior to this, she served as the Alameda County Deputy Public Defender, where she provided legal services for those in the community who were accused of crimes but could not afford to hire a private lawyer, helping to give all citizens the right to legal counsel. She has also served as an adjunct professor of law at the John F. Kennedy School of Law.

Throughout her career, she has been active in legal associations, and is a founding member and past president of the National Conference of Women's Bar Associations. She has served on many committees and divisions of the American Bar Association, the Alameda County Bar Association, and the State Bar of California, and was 1987–88 president of California Women Lawyers. She has been a member of League of Women Voters for over forty-five years, and of the American Association of University Women, Fremont Symphony Guild, and the Friends of the Library for nearly that long.

She has also worked for many years as an advocate for health and human services for citizens in her home in Fremont, California. She has been honored for her work by being named a Woman of Achievement by Alameda County. She was designated a Community Hero by the Alameda County Fair/Lions Club in 2000. She has also been named Criminal Lawyer of the Year by the Alameda County Lawyers Club; she was a Salute to Women award winner from the Oakland YWCA; and was 1988 Woman of the Year in the 19th Assembly District. She has been recognized by law organizations for outstanding service, volunteerism, and professionalism.

She was a board member of Shelter Against Violent Environments (SAVE) for thirteen years, served as chair for four terms, co-founded SAVE's Legal Clinic Program, and served on nominating, recruitment, and bylaws committees. She also served as president of the Board of the Washington Hospital Healthcare Foundation, as well as the Baywood and Sequoia Housing Boards in Fremont. She has also served the Board of Eden Housing (a nonprofit developer of affordable housing) as a member and has served as secretary of the Child Abuse Prevention Agency Board. Previously, Pauline has served on the Boards of Deaf Informed Communications of Fremont, the Fremont Cultural Arts Council, and the Parent Information Network. She served on the city's Sister City Commission for six years.

She received her juris doctor in 1979 from the University of Memphis Cecil C. Humphreys School of Law and her bachelor of arts from the University of Memphis in 1971. She is admitted to practice in Tennessee (1979), California (1980), and the Supreme Court of the United States (2008).