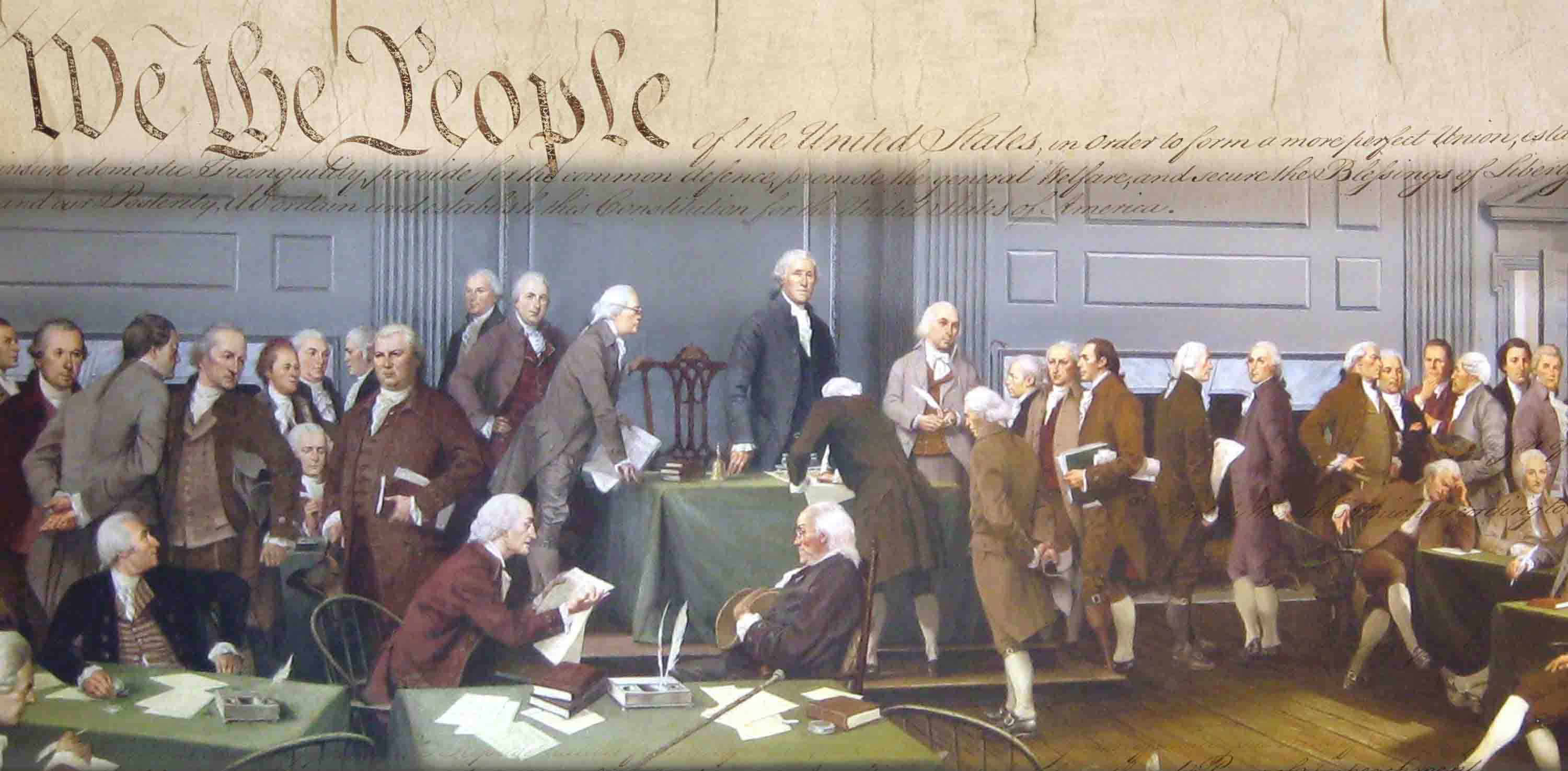 The National Finals is the culmination of the tremendous effort of teachers, students, parents, and We the People state coordinators to secure community sponsors. Local fundraising helps to cover the student travel costs associated with attending the competition and participating in the five-day educational program in Washington, D.C. Nearly $2,000,000 will be raised by 56 communities to support the event.

We would like to thank the Fund for Freedom and Democracy for their continued support for classes attending the We the People National Finals. The fund is named in honor of Justice Patricio Serna of the New Mexico Supreme Court.

If you are interested in helping sponsor the National Finals please contact This email address is being protected from spambots. You need JavaScript enabled to view it.


National Finals Class Sponsors

Maryland: Boonsboro High School

ALA Antietam Unit 236, Allstate Insurance – Michelle Wright Turner, American Legion Post #10, BHS Class of 1963, Boonsboro Historical Society, Buffalo Wild Wings – Hagerstown, Hagerstown Honda, Hagerstown Smiles Dental, Hagerstown Tea Party Organization, Ladies Auxiliary Post #10, League of Women's Voters – Hagerstown, Ledo's Pizza – Falling Waters, Mountain Spirit Yoga LLC, Nora Roberts Foundation, Red Byrd Restaurant, Sharpsburg Pharmacy, Sons of American Legion Post #10, Delegate Barrie Ciliberti, Ms. Ruann George, Ms. Sharon Giles, Mr. & Mrs. Heizer, Mr. & Mrs. Price, Senator Andrew Serafini, Ms. Beth Stitely, Mr. & Mrs. James Warner


Massachusetts: Auburn High School

Worcester Pistol & Rifle (In The Name of Brian Frappier), The Pappas Foundation, F.W. Webb Company, Auburn High School 2012, Auburn School Committee, Auburn Public Schools, The Vecchios, Cogswell Sprinkler Co., INC., Anne M. Cavanaugh, Atlas Distributing, INC., Auburn Democratic Town Committee, Mr. + Mrs. Quitadamo, Ms. Para, Ms. Fedella, Mandy, Lisa, Kathy, Brenda, Deb, Buffalo Wild Wings, Quinne Masiello & Margaret Kibbe, Smith , Mrs. Armendo, The Coffee Mug, Mr. Swedberg, Mr. Cormier, Dr. Brunelle, Courtland & Charlotte Kiltes, Tale of the Cod, Kelsey Kennard Photographs, Mrs. Carlson, Mr. Handfield, Coach D, Major David Brodeur Foundation, Cynthia Kingdon, Ten Mangoes Photography, Piercing Emporium & Tattoo, Boston Bruins, Providence Bruins, Boston Red Sox, Driven Performance, Fit FRIENDzy Studios, Cold Stone Creamery, Eller's Restaurant, Major League Roast Beef, Citizen Wine & Cheese & Chocolate, El Patron, Weepin' Willie's, Auburn Town Pizza, Bruce & Karen Wilks, Yankee Piano Service, Mrs. Heidemann, Auburn Historical Story, Kevin Hussey, Gail Holloway, The Palmer Family, Dan Carpenter and Ann Westen, Heritage Restaurant, Boston's Best Coffee, Kung Fu & Tai Chi Academy of New England, Stephanie Tolman, Kleen 'n Hard, Auburn Youth Soccer, Youth Basketball, Fastpitch League, Deep Relief Massage Therapy, Isaac's Bridal Party, Y.M. Rutledge, La Jolie Fleur, Auburn Hot Yoga, Mary & Thomas Brousseau, Peter and Rachel Rhein, Erik and Amy Berg, Karyn Ferdella, Rep. Paul Frost, Lehong Attorneys at Law LLC, Auburn Education Association, Mr. Bergman, Scott Rano of Horizon Beverages, Katherine M. McClellan, Denise Landry, The Billings Family, The Bregman Family, The Stokes Family, Gwen White, Auburn Chief of Police, Janice King, Mrs. Fancy, Denise King
Massachusetts: Easthampton High School

Golden Eagle Café, Christine Soverow, Karen Dupre, World Language Club, Madison Rodriguez, Ryan Rodriguez, James Zarvis, Ryan Bragg, Audrey J Bromberg, Isaac Bromberg, The New Making Waves, Susan Mason, Eleanor Kwalek, Patricia A. Hamilton, Daniel R. Carey, Susan Donnelly, Paula M. Pelkey, Heather A. Brophy, Christopher G. Pelkey, Eileen J. Claveloux, Michael Falcetti, DBA Changnon Refrigeration, David Beauregard, Shawn Sheenan, Joan M LaPlante, Christine Sullivan, Bernice P Sullivan, Diane G. Domina, Helping Hand Society, Joan C. Bonsignore, Kerry A. Damon, Maryanne Baskin, Catherine H. Banigan-White, Connecting Activities, Mark Schmittlen, Lawrence H. Field, Gerard J. Gravel, Andrew Caires, Patrick J. Mackey, Charles Powers, Catherine Macdonald-Amias, Scott Joyce, Cheryl A. Brooks, Naomi and Christopher Murdock, Galen J. White III, John R. Pirro, Amity K. Perman, Judy D. Peloquin, Richard A. Guistina, Anthony E. Zimmermann, Nancy A. Dunn, Finck & Perras Insurance Agency, Easthampton Education Association, Patricia L. Duda, Kathryn V. Stanne, Richard K. Fleming, Jared S. Colenback, Melissa Dion, Eugenio G. Garcia, Aimee Kroll-Desrosiers, Owen T. Coughlin, Ed's Auto Body & Repair, Inc., Kiwanis Club of Easthampton, Inc.,  Suzanne W. Kelley, Christine Linderman, Michael Buehrle, J. Patrick Coby, Alice Nash, Steven Jones, Joanne Shea, Terrance Day, Kara McElhone, Allan Ardito, Trent Toran-Sandlin, Walfredo Rolon, Wayne Cummings, Abigail Goman, George Moszynksi, Susanna Walz, Easthampton Animal Hospital, Diana M. Kelley, Bank Of America, Catherine Hancock, Richard's Fuel & Heating Inc., Tandem Bagel Company, Easthampton Learning Foundation, Taylor Real Estate,  Lynn A Clark, Marin Goldstein, Cheryl Dembek Kennedy, Robert J. Daniels, Jean M. Douglas, Michael A Tautznik, Patricia G. Therrien, Marjorie M. Wilby, Lois R. Peirent, Caroline J. White, Thomas G. Conner, American Legion Riders, Marilyn R. Witherell, Neal B. Abraham, Silas W. Kopf, Florence Bank, Ann Lee Hallstein, Ethel R. Koehler, Walter A. Korzec, C.L. Fender, Elisabeth H. Colt, Jean P. Turner, Fran Henry,  Jared T. Orne, John H. Reese, Betty S. Babb, Kay G. Althoff, Christopher Reese, William N. Shelton, YWCCC, Inc., DBA Young World Child Care Center, Advance MFG.  Co., Inc., Richard A. Bauman, Timothy J. Raskevitz, William J. Dermody, Maryann Vinelli, Ethel S. White, Patricia J. Johnson, Francesca Bowman, Mary E. Vachula, John Kille, Robert D. Knightly, Rosalie Harris, Janice G. Hoffman, Rennaissance Club, Rita M Luce, Janet E. Hartley, Pamela D. Burek, Stephen A. Levin, Raymond E. Duda, Pamela D. Burek, Anne E. Porter, Peter T. Gunn, L. Jane Press, Catherine D. Hartley, Rose M. Guerra, Robert E. Miller, Dalton Lavalle/American Legion, Ramon Rivera, Michael R. Packard, Susan R. Hallstein, Lindley B. Weinberg, Edith C. Bennett, Ann T. Gibson, Robert M. Wilson, E. Anne Werry, Barbara L. Quinn, Jamie Wooldridge, Daniel N. Phaneuf, David A. Gardner, Florence R. Sullivan, Cynthia D. Jensen, C. L. Griggs, Kenneth B., Gail N. Herman, Andrew R. Foster, Annette M. Szczygiel, Maureen Raucher, Anne E. Porter, Donald R. Mercure Jr., Laura C. Edgin, Elizabeth A. Ouellette, Kristen Wilmer, Jean Yun Pao Wilson, Paul F. Carrier, David R. Boyle, Richard H. Hutchinson, Donald Raucher, Legacy Farm, Pamela Burek, Stephen M. Linsky, Nancy Weld, Patricia Teres, Lisa Wilby, EHS Drama Club, Elise Bernier-Feeley, John I. Ewell, Mary E. Lepine, Laurie R. Lamoureux, Platterpus Records, Kenneth Driscoll, Rotary Club of Easthampton, Inc., Goat Peak Strings LLC, Bluebonnet Enterprises, Inc., Wholesale Grocers, Inc., Andrea T. Gonsalves McCallum, Amy W. Burke, Matilda Cantwell, Thomas J. Balance, J. Meredith Balise, Nancy P. Follansbee, Kelley Brown, Easthampton Learning Foundation, Easthampton Bank, David Raucher, Lathrop Community Residents Association of Easthampton, Alfred P. Chamberland, Anuraj Shah, Rotary of Easthampton, Cathleen Davitt, Shannon Gravel, Matt Dube, David Ostrander, Daniel Russell, Alexandra Dodge, Alane Hartley, Ferland Pybus, Anne Hurley, Lisa Doney, Thomas Peake, Sam Welson, UFCW Local 1459, Jacque Wong, Kate Ziegler, Mary Cleary, Priscilla Ross, Michael Clark, Gene and Nanci Duda, Mary Serreze, Richard and Mary Carey, Missy Vineyard Ehrgood, Owen Zaret, Joseph McCoy, Deborah Cook, Susan Lapointe, Pete and Beth Ouellette Lonnie Chu, Amelia Ender, Barbara LaBombard, Raymah Hutchinson, Alyssa Clark, Melissa & Tom Sturm, Mary Malo, Joanne Jensen, Morgan Tabb, Marilyn Cernak, Sarah Mulvehill, Jack Stack, Christopher & Brenda Olinski, Lynn Anne Leone, Angela Burke, Kathryn Levesque, Marcy Eisenberg , Sam and Sue Welson, William Diehl, Thelma Mellin, Sandra Rae, James Fernandez, Peter Carroll, Richard Cairn, Petra Ybarra, Alina Wong, Alane Hartley, Carolyn Smith, Marianne Gambaro, Mai Stoddard, Brian Atwater, Joanne Benkley, Danielle Cappello, Abigail Levy, Greg Arthur, Sandy Cappello, Gretchen Fiordalice, Deborah Arthur, Kiera Coon, Andrew Syfu, Morrison Marcia, Charles Kehoe, Marlies Stoddard, Tom Flaherty, Lynn Wilson, Shawn Sheehan, Jim Crabb, Elizabeth Rosenberry, Cindy & John Moriarty, A-Z Storage & Properties LLC, Suzan Rheault, Eileen Cyr, Paul Romanowski, Karen Albano, Bill and Gail Canon, Hampshire County Bar Association, , Jennifer Geertsma, Julie Blum, Carolyn Anderson, Megan Downey, Mark Carmien, Tracy Green, Jim Purvis, Susan Joel, Kevin Mulligan, Stanley McCoy, Brooke Norton, Betsy Tarr, Jill Robinson, Deanna Detmer, Elizabeth McAnulty, Elaine Lamy and Chris Hannibal, , Neal Salisbury, Dan Klatz, Shane Reil, Nicole LaChapelle, Chloe Crabb, Caroline Allison, Benson Crabb Family, Doris Madsen, Bob Vaughan, Donna Harlan, Julia Chevan, Ruth Von Goeler, Roger Chappuis, Deb Friedman, Kate Rolland, Richard and Paige Kaufman, Barb O'Brien, Daniel Russell, Brian Moody, Margaret Lecko, Frances Fahey, Beth McAbee, Michael Tautznik, Owen Zaret, Raymah Hutchinson, Peg Conniff, Estelle Stasz, Mary-Beth Cooper, Suellen Jones, Barbara and Charles Wanamaker, Lynne Marie Wanamaker and Elizabeth Rich, Scott Cavanaugh, Laurie Risler, Liz Eleftherakis, Sharon Lapointe, Brenna Morrison, Eileen Jachym, Kristine Forsgard, Barry O'Connell, Dan Hanscom, Michael Engel, John Scibak, Dan Zukergood, Don Humason, Scott Welsch, Natalie Schlegel, Victoria Kozera, Shirley Gilfether, Wilson Services Inc., Garrett Welson, Kathy OLeary, Sarah Schmidt, Luke Strzegowski, Cynthia Garrison, Applebee's, BJ's Wholesale, BeFit Health Club, Big Y, Bounce, Carla Snyder, Carly Guerra, Cernak Fuel, Chili's, Cinemark West Springfield, Crooked Stick Pops, Dave's Soda and Pet Food City, Delaney House, Amy's Place, Dr. Hauschka Skincare, Dzi Handmade, ESP Auto, East Mountain Country Club, Escaped Puzzle Room, Fleury Lumber, Florence Hardware, Florence Pizza, Fort Hill Brewery, Friendly's, Galaxy, Hampton Inn, Hickory Ridge Country Club, Kevin Burke, La Quinta Inn and Suites, Lisa's Hair Salon, National Carpeting, Nini's, Northampton Brewery Orchards Golf Club, Paul Carrier, Pioneer Valley Ballet, Pioneer Valley Hotel Group, Pioneer Valley InDoor Karting,  (R)evolution Café, Rigali and Walder Orthodontics, River Valley Co-op, Ruth Sanderson, SHOW Circus Studio, Shelburne Falls Coffee Roaster, Slainte, Bruce and Barbara Brown, Nancy Sykes, Southampton Country Club, Springfield Thunderbirds, Stop & Shop, Strength for Life, Health, & Fitness, Student Prince, Susan Welson, Tavern on the Hill, Tractor Supply, Ruth Sanderson, Trader Joe's, Valerie McQuillan, Walmart, Wilson Services, Wings Over Springfield, Yankee Candle, Zing! Table Tennis Center, C & S Wholesale, Adamo's Pizzeria and Restaurant, Myers Catering, Big E's Supermarket, Paisano's Restaurant, Papa George, Big Y Southampton, Costco, Bonnie Katusich, Glendale Grill, Bob Canon, Pat Brough, Whip City Music, Strong Bus Company, and many other people who attended our events and anonymous donors

Nevada, Incline High School

Rotary Club of Tahoe-Incline; Rotary Club of Incline Village; T's Mesquite Rotisserie; Gus's Open Pit BBQ; Big Water Grill; John Cheney; St. Francis of Assisi Parish; Robert Green and the Green Family; Lakeshore Realty; The Plastiras Family; Kelly & William Dietz; Julia Ferguson & RFK Family Law Firm; Eileen Whalen & Robert Heilig; Dell & Shirley Rowley; Lesley Schroder; Jennifer Suter and the Suter Family; The O'Connor Family; Robin Kocher; Armand Russell; Sandra Hammond; Yolanda Knaak; Incline High School Boosters; Incline High School Crab Feed; Incline Village Board of Realtors; Communications to the World and Eulogio Quiroz Sanchez; Bruce & Elizabeth Green; Michael & Suzanne Kirkland; Karen Boyd; Therese & Scott Wilderman; Richard Paul Drewes; Incline Granite Works & Homola Family; Gail & John Krolick; Oscar Deanda and Marisol Paz; Janelle Cepeda Van Der Linde & Richard Stephen Van Der Linde; LTC Cleo D. Kirkland & Barbara Ann Kirkland; Patrick Fleming and the Fleming Family; Dana M. Kirkland; Marshall & Leslie Saxe; Jared Hammoch & Peter Emmerich; New Life Foursquare Church; Incline Village/Crystal Bay Republican Women; Joanne & Kevin Devine; Cornelia & Edward Gould; Kip & Donna Tonking; Carol & George Del Carlo; Susan Maturlo; Constance Skidmore; Adelina & Charles German; Kirk & Hala Ketcherside; Joan & Barry Saxe; Carolyn A. Tolf; Burt & Paula Garavaglia; AAUW Tahoe Nevada; David & Susan Hoefler; Catherine Colvin; Amy & Jonathan Smith; Judy Stranzl; Gary & Perri Finch; Alebrijes Mexican Bistro & Justo Marquez; Lana Tarigo; Jonathan R. Miller; and the Miller Family; William Cherry; Eppolito Family; Violet A. Lennon; Michael L. Durand; Cornell Family; Cohn Family; Kristi Fisher; Jamie L. Golden; Suzanne Batmale; Daryl & Carol Powell; Tong Family; Marisol Paz; Rigoberto Moreno; St. Patrick's Episcopal Church; Solomon Family; Lake Tahoe School Student Council; Knights of Columbus and Our Lady Queen Peace Council at St. Francis of Assisi Church; Incline Village Pak Mail; Phyllis and Guy Conces; James and Sheryl Watson; Ruth and Wayne Glass; J. Michael Stone; Joseph and Dana Greer; George Gabel and Linda Brooke; Joan Skelly and Bryan Price and the Skelly Price Family; Raymond and Zelda Steinberg; Sidells Family; Jane Dykstra and the Dykstra Family; Dave and Cheryl Duffield and the Duffield Foundation; Kevin Lyons and FlashVote; Joy and Eric Strotz and the Strotz Family; Donald Frei; Jonathan and Susie Sabin; Incline Village General Improvement District; Raley's Incline Village; Scott and Christie Stranzl; Polly Wolfe; Mary Danahey and Barry Golombik; Kim Zankich; Charles and Deanne Weinberger and the Weinberger Family; Steven and Vassiliki Cruz and the Cruz Family; Martin and Leigh Hlavaty; Rob and El Furtney; Floam Family; Tia Rancourt; Ken and Janet Schleimer; Peggy Kelahan; Hyatt Regency Lake Tahoe; Bite American Tapas; Action Water Sports; Incline Village

Susan Wagner; Gregory Merritt; Dawn Rye; Laura Schneider; Dianne Severance; Sharon Schrage; Gift of Education; David Koch; Paint Horse Winery; Coastal Construction Services LLC; Scott Wallner; Cindia Shaw; Karin A. Eames; Heidi Smith; Mary Smith; Paul A. Andronico; Farnin; John Redfern and Redfern Family; Marc Rancourt and Rancourt Family; Steve Stranzl and Stranzl Family; Amy Smith; Georgina Barth; Ryan Ritchie; Joseph Farnin; John McComish; William White; Mark Ludviksen; Aaron Meyer; Michael Wright; Bradford Saxe; Lynn Cartwright; Susan L. Wagner; Ronald Blash; Diane Dahl; Bonnie Skinner; Christopher Kaiser; Gina Robinson; Timothy McComish; Jennifer Tompkins; Richard & Linda Offerdahl; Katherine Goldberg and the Goldberg Family; Alan Carlson; Lisa Tarigo Poalillo; Wendy Allyn; Richard Marshall; Nancy Porten; Christopher Ottaway; Megan Fogarty; James and Stephanie Mancuso and the Mancuso Family; Sharon J. Matthews; Keith O'Donnell and to all of those who attended fundraising events at community organizations, community churches and community dinners.
South Dakota: Spearfish High School

Mr. Lennis Larson, Dr. Pamela Carriveau, Dr. John Van Benthuysen, Mr. Eric Nies*, Spearfish School District 40-2, Spearfish Foundation for Public Education, Black Hills State University Chiesman Foundation for Democracy, Spearfish Optimist Club, Guadalajara Restaurant, Rapid City Regional Hospital, First Interstate Bank, Spearfish Eye Care Center, Dr. Steve Guiseffi*, Pioneer Bank & Trust, Stadium Sports Grill, Mrs. Lonna Jensen, Zonta Club of Spearfish, Dana Dental Arts*, Capt. Paul M. Gainey*, Spearfish HS Student Council, Mr. Ben Larson*, Black Hills Physical Therapy, Mrs. Mary Ellen Lantis, Robert Crosswait DDS, Spearfish Lions Club, Lawrence County Republican Women, White's Canyon Ford, Black Hills Community Bank, Great Western Bank, American Family Insurance, Parents of our students
*Denotes Spearfish High School We the People Alumni
Utah: Sky View High School, Smithfield/Green Canyon High School, North Logan
Dell Loy Hansen, Utah Law Related Education, Cache Education Foundation, AT&T, Tara & Matt Thue, Whitney Reed Poulsen, The Godfrey Family, Shannon Peterson, Our Team Dietitian T. Baldwin
Washington State: Tahoma High School
Cayce/Grove Law Offices, Edward Jones, Les Schwab Tire Center, Pinnacle Medical Wellness, Tahoma Athletic Club, Windermere Real Estate, Maple Valley Rotary, Johnsons Home & Garden, Maple Valley Plumbing, Palmer Coking Coal Co, Tahoma High School PTA, Tahoma School District

Wisconsin: Wauwatosa West High School

Alison and Patrick Bomberg, Amy Standal, Firefly Real Estate, Anne and Jon Tyson, Chris and Jamie Schwake, Detectapro Products LLC, Don Soderberg Painting, Dr. David and Mrs. Geraldine Tschopp, Dr. Sunny Ruggeri, Frank and Kathy Multerer, Frank Crivello, Esq, Fricker Law Offices, Hentzen Coatings, Inc, Holzhauer, Hewett and Barta Orthodontics, James and Lucille Breckenridge, Jed Hicks, Jon and Elizabeth Reetz, Judy and Earl Baeirl, Kiwanis Club of Wauwatosa, Long Family, Mark and Marsha Shaefer, Mr. and Mrs. Lloyd and Joyce McMurphy, Mr. and Mrs. Neugent, Mr. Brian and Miss Andi Espinosas, O'Sullivan's Public House, Pablo G. Bozovich, Paul & Lisa Kucik, Reginald and Kimberly Hill, Rita Ahl, Salawdeh Law Office LLC, Salawdeh Law Office LLC, Sandra Ackerman, Sandy and Bernie Knesting, Sheryl Bitter, Sports Clips Haircuts , State Representative Dale Kooyenga, Trojan Basketball Club, Trojan Football Club, Wauwatosa Lion's Club, Wauwatosa Rotary Foundation, Wauwatosa School District, Wauwatosa West PTA, Wauwatosa Youth Commission

Wyoming: Green River High School

Genesis Alkali, Animal Clinic of Green River, University of Wyoming Seed Grant, The Green River Star, Green River Insurance, China Garden Restaurant, Trona Valley Federal Credit Union, Embassy Tavern, Memorial Hospital of Sweetwater County, State Farm of Green River, Complete Chiropractics, Uinta Blade Training Group, Hooligan's Espresso, SMART Union, City of Green River, Green River Parks and Recreation, New Peak Construction, Sweetwater BOCES, The American Legion Tom Whitmore Post 28, Sons of the Legion Tom Whitmore Post 28, Auxiliary Legion Tom Whitmore Post 28, Stellar Coffee, The Office Shop, TATA Chemicals, Sweetwater County School District No. 2, Andeavor Logistics, VFW Post 2321, the Odd Fellows of Rock Springs, The Fraternal Order of the Eagles 2350, Ciner Wyoming, PMS Screen Printing, Spylt Endz, Western Wyoming Beverages, Walmart, Harts and Flowers, Domino's Pizza, Newman Sisters Signs and Designs, Herberger's, Murdoch's, Senator Barrasso's Office.

Other Personal donors: Judith Killion, Shane Steiss, Carol Walker, Sierra Stocks, Tamara Cole, Pepper Rynio-Brandt, Megan and Casey Allen, Storm Adcock, Lisa Robison, Brenda Skorcz, Michelle Cordova, Shannon Adam, Rebecca and Dennis Freeman, John Freeman, Yasmin Hamilton, County Commissioner Reid, County Commissioner Wendling, County Commissioner Johnson, Betsy and Albert Reyes, Cameron Walker, Chelsie Tominc, Alli Baas, Curtis Johnson, Bill Schwartz, Michelle Edwards, Karen Smoot, Marilyn Kite, Amanda Segobiano, Robert Jones, Margaret Hastert, Chris Nieters, Joselia Mendiolea, Anna Harris, Martha Hastert-Simmonds, Jessica Dickinson, Constance Green, Karen Kawleski, Kylee Lewis, Shannon Hamilton, Logan Kiedrowski, Lisa Bayles, Greg Fjerestad, and Madison Marquer. Rhiannon Doak, Jill Carpenter, Colt Klements.

Wyoming: Sheridan High School

Sheridan County School District #2, Homer A. & Mildred S. Scott Foundation, Roberts Family Foundation, Tom & Joan Scott, West Park, Wendtland & Wendtland, Frackelton's, Sheridan Media, Sheridan Rotary Foundation, Kibbee Foundation, Next Level, Base Camp Images, B.F. and Rose Perkins Foundation, Knights of Columbus Council #2104, Joe and Arlene Watt Foundation, Matthew Perkins Memorial Foundation, Herbert & Dorothy Zullig Foundation, First Federal Bank & Trust, Wyoming Community Foundation - LEK Donor Advised Fund & Dudley Creek Donor Advised Fund, Daughters of the American Revolution, Let R' Buck Car Wash, Craft Brothers, Twisted Hearts & Red Velvet Bakery, James & Janice Buchanan, Neltje, University of Wyoming, Wyoming We the People, State Farm Ann Gardner, Inter-Mountain Laboratories, Inc., Jeff and Carol Johnson, First Northern Bank of Wyoming, Plexus Worldwide Tressa Thomas, Western Transport, Qdoba, Mike and Shannon Boint, Ed Hammer Inc., 609 Consulting, LLC, Sheridan Floor to Ceiling, Yonkee & Toner LLP, WYO Vision Associates Inc., Sheridan Physical Therapy, Tomahawk Pipeline Construction Inc., Pure Energy Fitness, Farmers Co-op Oil Co., Inc., First Federal Savings Bank, Kappa Chapter/Delta Kappa Gamma, Core Physical Therapy, Studio One, Robbins Dermatology P.C., Flood Marketing LLC, Vacutech, Malone Belton Abel P.C., David & Cannon LLP, Powder River Heating & Air Conditioning, Sugarland Dental PC, Sugarland Walk-in Clinic, LLC, D. Scott and Anne Nickerson, Joe & Marietta Johnson, Linda Gifford, West Park Mobile Home Community, Charlotte Bell, Luke Sommers, Bob & Debra Ahlbrecht, Martha Swatt-Robison, Dan & Kathryn Riggs, Terry & Theresa Winnop, Three Peaks Real Estate, Rocky Mountain Discount Sports, Kim Ordahl, re.wine.ding, The Health Nut, Stephen Mullins, Red Bison Studio, The Union - Kristi Von Krosigk, Tracy Derks, Tracy's Custom Framing, Georgia Boley, Tailored Nutrition, Michelle Fritz, KULA Space, Twisted Hearts & Red Velvet Bakery, Kathy Bede, Verdello Olive Oils & Fine Foods, Jeff & Lorna Poulsen, Laura & Mike Hamilton, XYZ Ranch, Amy Steel, Arin Waddell, Carlos Hernandez, Doug Raney, Donna Jo @ Little Willow Traders, Tim Doolin Photography, Buck & Mary Brannaman, Eatons' Ranch, Sally & Scott Stults, Nest Holiday & Home, Babe's Flowers, Eileen Kurtz, Billings Artist, Ben Stringer, Expressions Art Gallery & Framing, Linda Dixon, Lee-Anne Dixon, Wayne Roadifer, Marilyn & Tom Stults, Jacque Gabler, The Lutheran Women's Mission League & Quilters, Carolyn Dowdy, Nails By T'Leye, Tangles, Marge Davey, Kris Korfanta, Anneliese Panasenko, Fran Hansen, Cloud Peak Creations, Shantel Rea, Journey's Center for Wellbeing, & Bruce Burns