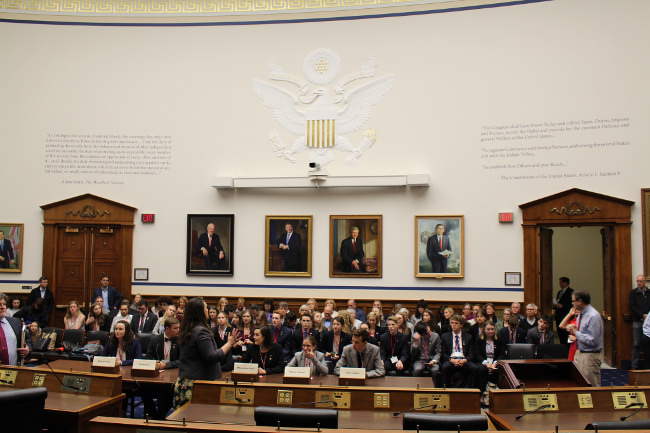 The National Finals is the culmination of the tremendous effort of teachers, students, parents, and We the People state coordinators to secure community sponsors. Local fundraising helps to cover the student travel costs associated with attending the competition and participating in the five-day educational program in Washington, D.C. Over $1,500,000 will be raised by 56 communities to support the event.


If you are interested in helping sponsor the National Finals please contact 

This email address is being protected from spambots. You need JavaScript enabled to view it.



---
National Finals Class Sponsors
Indiana: Hamilton Southeastern High School
Indiana Bar Foundation, Church Church Hittle & Antrim Attorneys At Law,  Hamilton Southeastern Schools Foundation, Royal Pride, Hamilton Southeastern Schools, Eye Surgeons of Indiana, Hancock Regional Hospital, Mays Chemical Company, Evolution VR, Hamilton County Prosecuting Attorneys
Maryland: Boonsboro High School


ALA Antietam Unit 236 Inc., American Legion Auxiliary Post #10, Antietam Chapter of the DAR, Ballet & All That Jazz, Boonsboro Historical Society, Centers for Advanced Orthopedics at Robinwood, Delegate Neil Parrott, Dr. Frank Hill, III, Attorney at Law, Hagerstown Honda, Hall Insurance LLC, Josie's on Main, Keedysville Ruritan Club, League of Women Voters of Washington County, Mr. & Mrs. George Smith, Mr. & Mrs. Green, Mr. & Mrs. Wainman, Mrs. & Mrs. Vesely, Ms. Delores Brightwell, Ms. Jackie Brown, Ms. Joan Weddle, Ms. Margaret Reeder, Ms. Ruann George, Nora Roberts Foundation, Panera Bread, Inc., The Peters Family, Thompson's Gas
Massachusetts: Easthampton High School


Eileen J. Claveloux, Bernice Sullivan, Joanne L. McDermott, Sharon C. Malouin, Susan K. Mason, Jennifer H. Geertsma, Lawrence G. Pion, Elizabeth E. Lempke, Kenneth A. Forni, Christine Sullivan, Rose M. Guerra, Joan C. Bonsignore, Julie A. Mazzarese, Joanne L. McDermott, Nancy A. Dunn, Jennifer H. Delozier, Nicole M. Duda, Erik H. Lokensgard, Leah N. Carrasquillo, Bonnie M. Ledoux, Donald E. Meltzer, Karen A. Tetreault, Walter H. Kleeberg, Tamara L. Kleeberg, Debra Bombard, Alyse Anderson, Constance E. Dawson, Homar Gomez, Sheri M. Paulin, Constance E. Dawson, Richard K. Fleming, Wayne N. Cummings, Kenneth P. Dupre, Kelly R. Coon, Kerry A. Damon, William A. Canon-Landscape Architect, J Meredith Balise, Elizabeth Lafield, Jill Pasquini-Torchia,  Patricia A. Teres, Judith Breier, Susanna Walz, Joanne Shea, Neal B. Abraham, Hampshire County Deputy Sheriffs Association, Silas W. Kopf, Susan M. Donnelly, Eleanor G. Kwolek, Helping Hand Society, Sharon A. Clearly, OCPS, INC., Easthampton Learning Foundation, David A. Gardner, Annette M. Szczygiel,  George E. Moszynski, Patricia M. Lumbra, Thomas P. Lamoureux, Elizabeth M. Carballo, Sally L. Casey, Raymond E. Duda, Mark Schmittlein, Nancy HG Weld, Nellie Donohoue, William D. Judd, Debra L. Sheldon, David R. Gillett, Kevin L. Canton, Lyn M. Kinlock, Gail M. Serino, Amy Pizaro, Barbara Van Mourik, John A. Pompei, Erica L. Wagner, Judy D. Peloquin, Elise Bernier-Feeley, Daniel R. Carey, Kathryn V. Stanne, Allan A. Ardito, Alice H. Roy, Walter A. Korzec, Tandem Bagel Company, Millrite Machine Inc., Kimberly M. Johnson, Thea R. Koehler, Jay Marowitz, Carol A LaPlante, Florence Savings,Charitable  Foundation, Inc.,  Margaret V. Lecko, Suzanne W. Kelley, Daniel D. Rist, Mbark Zabir, Stephanie A. Baird, Susan C. Boss, Rosamaria Kehoe, Marily R. Witherell, David F. Whiteley, Cynthia S. Whiteley, Caitlin Klinedinst, Shawn P. Connelly, Leslie J. Goelz, Susan Richards, John H. Reese, Joanne N. Drumm, Lynn E. Moran, Lauren Kessler, Easthampton Education Association, Rotary Club of Easthampton, Inc., Finck & Perras Insurance Agency, Inc., Freedom Credit Union, Williston Northampton School, Haymarket Café, Inc., BZD Dental Associates, P.C., Jamie Gardner, Lawrence Briggs, Karen Ram, Kelly Wolf, Nfamara Taal, Gail M. Canon, Ethel S. White, Maureen M. Tenczar, Maureen L. Phaneuf, Celia J. Oyler, Cheryl Dembek Kennedy, 1776 Brewing Company, Inc., Hampshire County Bar Assocation, Inc., Bernard Gawle Realty, Robert L. Ward, Amanda Zedonis Kemp, Attorney at Law, South Hadley Democratic Committee, Denise M. Mercure, Daniel M. Russell, 4T Ranch, Amanda L. Ryan, Easthampton Police Assocation, Lauren M. Kolodzinksi, Debora B. Lusnia, Arbella Insurance Foundation, Inc., E.S.P. Auto Inc., Northampton Area Pediatrics, Jessica N. Harwood, Donald F. Humason, Jr., Mildred Marowitz, Susan J. Shaw, Dalton Lavalle Post #224 American Legion, Julie Blum, Diane M. Pirro, C. L. Griggs, Barbara L. Quinn, Denise M. Rheaume, TurfCare Supply Corp., C&S , Whately Inn, Big Y, Roberto's, Papa George, Gregoire's Bakery, Texas Roadhouse, Mulinos, Village Pizza, Stop & Shop, Costco, BJs, Paisanos, Evolution Café, Riff's, Hamels Catering, Log Cabin Banquet and Meeting House,  Walmart, Northampton Rental, Dandelions Flowers, Barbara Brown, Kelley Brown, Phil and Keri Bilski, Ken's Eyewear, Boston Red Sox, Prodigy Game room, Float Spa, Pelican, Glen Woods, Advanced Restoration Group, Joan Bonsignore, Real Pickles, Westover Country Club, The Orchards, East Mountain Country Club, Southampton Country Club, MassMOCA, Ski Blandford, Academy of Music, Tavern on the Hill, Amherst Cinema, Sue and Sam Welson, Ruth Sanderson, Paul Carrier, Sarah Williams, Como Audio, Fort Hill Brewery, Quality Inn Northampton, Bruins, Eric Carle Musuem, Janice Hoffman, Easthampton Tai Kwon DO, Queen Bee Car Wash and Detailing, Easthampton High School, Class of 2019, UniFirst, Isabelle Stuart Gardner Museum, Bethany O'Neil, Franco Fiordalice, Rao's Coffee Basket, Outback Steak House, BJ's, Peabody Essex Museum, Hampshire Hospitality Group, Fleury Lumber, Roberto's, Thunderbirds, Hannoush, Pioneer Valley Karting, National Flooring, Fitness Fusion, Dan Waldron, Donut Dip, Blue Bonnet Diner, Osaka, East Heaven Hot Tub, Richard's Fuel, Pride Stores, Olive Garden, Northampton Chamber of Commerce, Heather Dameworth, DeGrandpre Jewelers, Webster's Fish Hook, Mayor LaChapelle, Superintendent LeClair, Pita Pockets, Central Rock, Noodles, Northampton Bicycle, Strength for Life, Carol Reddy and BELA, Teddy Bear Pools and Spas, Yokahamen Ramen, Julia Rowinski, Kevin Burke, Esselon Café, Jesse Belcher-Timme, Tony Motyl, Allison LeClair, Gretchen  Fiordalice, Benson Crabb Family, Gail Poulin, Shirley Gilfether, Amanda LaFlamme, Catherine Banigan-White, Jackie  Sienkiewicz, Sabrina  Angelone,Kimberly Rinker, Leah Chukumba, Erin Reddy, Jason Moynihan, Shawn Houle, Amalia Breed, Maddie Rice, Teri Szlosek, AJ Perez, Jodi Alatalo, Jack Forman, Joe Casale, Larry Tubbs, Paula Caires, The Detmers Family, Katherine Kobos, Emma Linderman, Bonnie Katusich, Shelly Bacis, Carrie Fiordalice , Michael  Soucy, Janice  Hoffman, Carole Thomas, Anastasia Hallisey, Colenback Family, Phillip Bilski, Colleen Currie, Cynthia  Garrison, Andrew Syfu, Alexander Rivenburgh, Michelle Droser, Christine Gangne, Billye Toussaint, Michael Engel, Shane Reil, Neal Salisbury, Kristine Forsgard, Dan Zukergood, Kathleen FitzGerald, Brandon Sundwall, Jill Robinson, Brian Wilby, Hyvonen and  Bromberg Family, Josephine Newton, Mary Malo, Elizabeth Eleftherakis, Clara Downey, Al and Diane Domina, Petra Ybarra, William Reid, Jan Reid, The Domina Family, Jack and Karen Stack, Laurie Risler, Piper Preston, Robert Peirent, Matt & Aimee Desrosiers, Eileen Jachym, Marion Voisine, Merilyn Brunton, Tyler Mason, Kevin Wall, Eric Guyette, Terry Day, Karen Tesini, John Bowman, Kyle Gagnon, Paul Romanowski, The Edgin Family, Marie Bauman, John & Jennifer  Atwater, Peter Carroll, Michael Tautznik, Daniel O'Donoghue, Arthur Jones, Wilson  Services, Inc., Martha & Chuck McCullagh, Regina Kaufman and Margaret Chappuis, Raymah and Richard Hutchinson, Carole S. Fickert, Betsy and Jimmy  Tarr, Pete and Beth  Ouellette, Alina Wong, Nancy Follansbee, Paul Morey, TS Barut, Vicki Thompson, Daniel Miller, Trevor Waldron, Richard Gagnon, Mary Lou and Jim Splain, Helen Stauder, Stephanie  Douglass, Ellen Many, Dave Ferland Amy Pybus, Jennifer Hoffman, Patrick Laszczkowski, Grace Levins, Matthew Atanian, Azlynn Czemerda, Genevieve Brough, Amelia Fiordalice, Chad LaBumbard, Zachary Marowitz, Michael Diaz, Kataira Williams, Jeff VanOudenhove, Dan Waldron, George LeClair, Nicole LaChapelle, Kelsey Kelly, Raymah Hutchinson, Margaret Colenback, Elizabeth Couchon, Madison Rinker, David  Strong, Janice Hoffman, Shane  Kleeberg, Jaquelline Perez, Charles Bouley, Cathy Wauczinski, Dan Kolodzinski, Jon Melanson, Virginia Doucette, Francesca Bowman, David & Lisa Boyle, Brian Wilby, Susan Lapointe, Mary Ann Vinelli, Anne Hurley, Barbara Obrien, Karen Lowman
New Mexico: Cottonwood Classical Preparatory School

New Mexico Bar Association, Grant Plant Inc., LLR Inc.


Sourth Carolina: Wando High School

SC Bar Association, Wando High's PTSO, Publix, Jack and Peggy Coulter, Mary and Gordon Britten, Mike and Caroline Sicilian, P. Kenneth Huggins, Trisha Newitt, Karen Winkler, Katie Donohoe, Catherine Masters, Jameson Wojewodka, Danica Whitney, Diego Farias, Jada Cameron, The Frain Family, Judy Applebaum, Rich Villacres, Henry Frain, Mike Kern, Kay Van Scyoc, Mary Kern, David Kern, Maurice Lurkin, Claudia Reid, Ben Michaud (MTAG Service), John Ambler, Tom Tiernan

South Dakota: Spearfish High School


Mr. Lennis Larson, Dr. Pamela Carriveau, Dr. John Van Benthuysen, Dr. Nicholas Drummond, Mr. Eric Nies*, Mr. Wes Brown & Vantage Institute, Spearfish School District 40-2, Spearfish Foundation for Public Education, Black Hills State University Chiesman Foundation for Democracy, Spearfish Optimist Club, Guadalajara Restaurant, Rapid City Regional Hospital, First Interstate Bank, Spearfish Eye Care Center, Dr. Steve Guiseffi*, Pioneer Bank & Trust, Mrs. Lonna Jensen, Zonta Club of Spearfish, Dana Dental Arts*, Capt. Paul M. Gainey*, Spearfish HS Student Council, Mr. Ben Larson*, Mrs. Mary Ellen Lantis, Robert Crosswait DDS, Spearfish Lions Club, Laudry World, Williams & Associates Architecture, Northern Hills Fraternal Order of Police, Harvery Krautschun, Mr. Brian Coburn*, American Family Insurance, Parents of our students

*Denotes Spearfish High School We the People Alumni
Washington: Tahoma High School

Ralph and Barbara Horn, Shane and Susie Davies-Windemere Real Estate, Maple Valley Les Schwab, Kennedy Family, Denny Pierre-Edward Jones, Cayce and Grove Law, Tahoma Athletic Club, Palmer Coking Coal, Swiched, Bradley Hanson Group, Eagle Hill Consulting, Washington State Bar Association, DP&C, Johnson's Hardware, Mary Jane Glaser, Wendy Castleman, Linda Johnson, P.E.O.
Wisconsin: Wauwatosa's West High School

Alfred and Patricia Boeckeler, Amy Standal Firefly Real Estate, Beverly Baish (Johnson) Family, Bill and Debbie Runyan, Border States Electric, Brad and Kristin Walter, Brewtown Brewgrass, Brian Kemper, Carol Wehrley, Chad Corsten, Christine and Greg Reuter, Corporate Technology Solutions Inc., Corporate Technology Solutions Inc., Craig Gulley, Dave and Kim Hegedus, Dave and Stephanie Honan, David and Barbara Leist, Deanna and Steven Ross, Detectapro, Don & Diane Domick (Nana & Papa Don), Ellen Engelking & Jerome Heer, Evelyn Clarke for Great Granddaughter, Friends of Hoyt Park and Pool , Gary J Wehrley, Graham Cracker, Grandparents Arlin & Dee Zevenbergen, Greg and Caron Bedell, Hindsight, Indian Garden, Jake and Tanya Keenan, Jay Greenberg, John Doyle, John Kauflin, Jon and Melissa Huitink and Family, Kathleen Huitink, Kirsten and Mike Bachar-Perez, Kirsten and Steve Stearns, Kiwanis Club of Wauwatosa, Linda and Mark Carlson, Lions Club of Wauwatosa , Mary Pelner and Mary Rau, Mary Soboleski, Matt and Bonnie Lee, Mayfair Rotary, Michael and Shirley Warecki, Michele Tschopp, Mt. Zion Lutheran Church, O'Donoghue's , O'Sullivan's Public House, Priya and Hashis Kanungo, Quad/Graphics, Robert and Bonnie Garrot, Salawdeh Law Office, Scott Cayo/Edward Jones, Stoltenburg Family, Sunny and Tony Ruggeri, The Reetz Family, Tony and Liz Baish, Waste Management, Wauwatosa Rotary Foundation, Wauwatosa School District, Wauwatosa West High School, Wauwatosa West PTA, Woodman's Market